Every year, the top minds in the industry gather at the Global Gaming Expo in Las Vegas to show off the greatest technological innovations in the business. And, every year, we recognize the best of the best.
 
At G2E, we took time on the main stage to present the winners of our ninth annual Gaming & Technology Awards. We solicited nominations earlier this year from across the industry, asking our readers what they thought were the greatest innovations they have seen in four categories: Best Consumer Service Technology, Best Productivity-Enhancement Technology, Best Slot Product and Best Table Game Product or Innovation.
 
All of our nominee products and services were then examined by a distinguished panel of judges. This year's judges included Claudia Winkler, president, GHI Solutions Inc. of Las Vegas; Rob Russell, gaming analyst, Regulatory Management Counselors, P.C.; Israel Posner, executive director, Institute of Gaming Management, Richard Stockton College of New Jersey; Lindsay Stewart, senior vice president of slot operations, Sociedade de Jogos de Macau S.A., and Frank Neborsky, senior vice president of slot operations for Mohegan Sun in Connecticut.
 
The judges' decisions were not easy. This year's nominees encompassed a large cross-section of casino design, and included remarkable innovations in every category. In the end, though, our judges thought a few rose above the fray in each of the various categories:
The award for Best Consumer Service Technology went to Bally Technologies for its Elite Bonusing Suite and iVIEW Display Manager. The bonusing suite rewards players with any of a variety of games for their loyal patronage, and the iVIEW DM system is already being used for groundbreaking enterprise-wide promotions such as the property-wide video horse races that take place every Saturday night at San Diego's Barona Valley Ranch.
Close behind were the fantastic Bluebird xD slot cabinet and format from WMS; and TournEvent, the new-and-improved tournament system from Multimedia Games.
In the Productivity-Enhancement Technology category, Bally registered another first-place award with iDECK, the groundbreaking button panel that places all slot buttons on a touch-screen LCD which doubles as an ancillary video screen for bonus events or direct communication from casino to player. Second place went to TCS John Huxley's Gaming Floor Live system, which automatically captures all game data on roulette and coming in third was MD2cr by Shuffle Master, a multi-deck card recognition system with the ability to read every card shuffled.
This year's  Best Slot Product, according to our judges, is IGT's remarkable Reel Edge Series, which places an element of skill into the slot experience. These slots place a skill-stop feature in the primary game, with a bonus round fully skill-based, using a joy stick mounted on the button panel.
The second-place finisher in the slot category was Paradise Fishing by Aruze, another game using a joy stick—this time, to provide tension when a player lands a fish in a community fishing bonus. Third place went to Hot Pick from Bally, the follow-up to last year's Cash Spin game using the revolutionary "U-Spin" technology that allows the player to physically spin a bonus wheel.
Finally, this year's Best Table Game Product is the Novo Unity II multi-player platform from Novomatic/AGI, a system that combines live table gaming with multiple automated betting stations.
Runners-up in the table game category included MultiPLAY by TCS John Huxley, which combines a live croupier with electronic betting stations in a hybrid table game; and Texas Hold'Em Heads Up Poker by IGT, which uses artificial intelligence to pit player against computer in a heads-up poker game.
"In this difficult economic time, it's clear that the technology providers to the gaming industry have not taken a breather," said Roger Gros, publisher of Global Gaming Business. "The quality and quantity of this year's entries surpassed any previous year, once again validating that the Gaming & Technology Awards are the gold standard in the casino industry."
BEST CONSUMER SERVICE TECHNOLOGY
1st • Bally Technologies
Elite Bonusing Suite &
iVIEW DM 
2nd • WMS    
Bluebird xD 
3rd • Multimedia Games
TournEvent 3.0
Honorable Mention
Aristocrat Technologies
Dynamic LCD Button
Technology
Automated Currency
Instruments (ACI)
Player Enrollment
Kiosk (PEK+)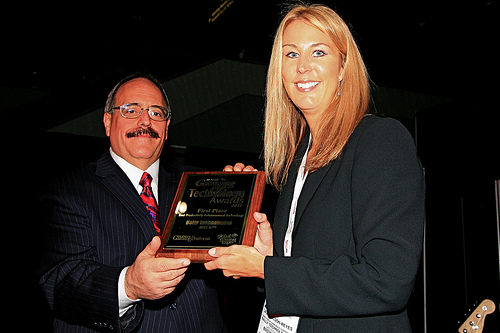 BEST PRODUCTIVITY-ENHANCEMENT TECHNOLOGY
1st • Bally Technologies    
iDECK
2nd • TCS John Huxley
Gaming Floor Live
3rd • Shuffle Master    
MD2cr
Honorable Mention
TransAct Technologies    
EpiCentral Print System
for Casinos
FutureLogic
GEN3 Evolution  Printer
BEST SLOT PRODUCT
1st • IGT   
Reel Edge Series
2nd • Aruze Gaming    
Paradise Fishing
3rd • Bally Technologies    
Hot Pick
Honorable Mention
WMS
The Lord of the Rings
Incredible Technologies
Magic Touch VersatileVolatility
BEST TABLE GAME PRODUCT OR INNOVATION
1st • Austrian Gaming Industries/Novomatic
Novo Unity II Multiplayer Platform
2nd • TCS John Huxley
MultiPLAY HD & MultiPLAY Quad HD
3rd • IGT
Texas Hold'em Heads Up Poker
Honorable Mention
Shuffle Master Gaming    
i-Table Roulette
Elektroncek
Organic Island